[ad_1]

The moment Alexis Cheung saw the news in early February about the horrific earthquake in Turkey and Syria, she wanted to do something to help. The 30-year-old nonfiction writer, who lives in Honolulu, Hawaii, started searching for ways to give money directly to people impacted on the ground.
Through a friend's Instagram story, Cheung learned about a person from Aleppo who would soon be traveling to the Syrian city, bringing money to help people with supplies and other expenses in one of the worst-hit areas of the country. Cheung asked for the person's Venmo information in order to use the payment app to make a $25 donation. 
When Cheung sent her donation, she typed "Aleppo" with a heart emoji in the Venmo app. Immediately, she received an alert from Venmo that the transaction would be held for review. Venmo then emailed Cheung requesting an explanation for the reference to "Aleppo" and the purpose of her payment. 
"I just got really mad because it's such an insane thing. It wasn't a hundred or thousands of dollars that might seem like, 'hey, where's this money going?' It was flagged because of the word 'Aleppo,'" said Cheung. "We don't treat humanitarian crises the same way depending on where they happen."
Venmo approved the transaction within an hour after Cheung replied in detail that she had sent her donation to help victims of the earthquake that has left millions of people homeless and is estimated to have killed 50,000 people in northern Syria and Turkey. 
But some people trying to donate funds to help Syrians struggling in the earthquake's aftermath are running into roadblocks due to the U.S. government's long-running sanctions regime against the Syrian government. The sanctions are designed to block certain financial transactions from going into the country and put pressure on President Bashar al-Assad, depriving him of resources used to commit violence against Syrian civilians amid a brutal civil war. 
While the U.S. government temporarily lifted sanctions for transactions in February to allow fund transfers to Syria for relief purposes, consumers and people involved in grassroots organizations say the financial system is still filtering out and delaying aid donations at a moment when time is of the essence. Some of these problems and delays are not resolved as quickly as Cheung's $25 donation, they add, causing frustration, confusion and angst.   
The broader sanctions on Syria have had a chilling effect on financial firms and institutions, which complicates aid going into the country, said Delaney Simon, a senior analyst at the International Crisis Group for the U.S. 
"Financial institutions are risk averse, they don't want to fall afoul of sanctions," Simon said. "This has always been the issue with sanctions in humanitarian settings. This sort of chilling effect that we see not just in Syria, but also in places like Afghanistan, Iran, where, in theory, a license allows these kinds of transactions, but in practice, financial institutions just aren't willing to facilitate the transactions."
'Every extra hour that the money is withheld, it's being withheld from people in humanitarian aid'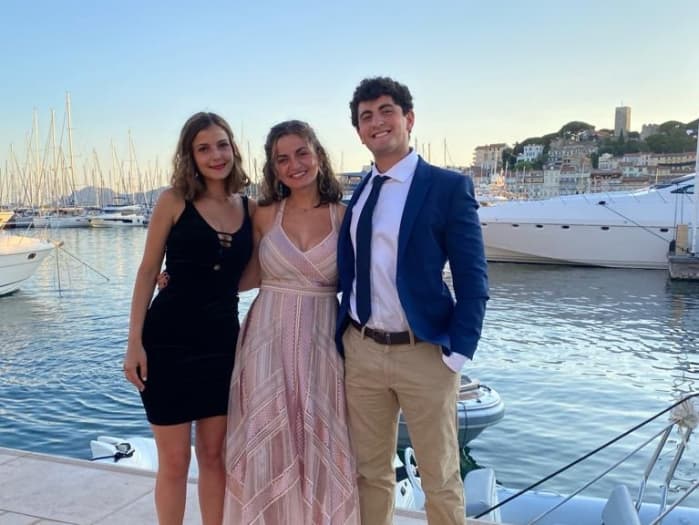 When the earthquake rocked northern Syria in early February, Hekmat Aboukhater sprung into action. Born in Boston and raised both in Aleppo and on the U.S. east coast, Aboukhater had moved to France, where he was a 24-year-old graduate student. Aboukhater had previously co-founded Project Onwards, a network of Syrian Americans, with his siblings Layla, 27, and Jude, 24, to aid educational and cultural efforts for Syrian youths. 
Aboukhater and his siblings dropped everything they were doing in February to focus on fundraising efforts for earthquake victims. Given their experience raising funds to help young Syrians, they knew navigating the financial system would be tricky. They prioritized sending money to aid organizations with either an American bank account, a European bank account, or an accessible Lebanese bank account —-one with an International Bank Account Number (IBAN) or a SWIFT (Society for Worldwide Interbank Financial Telecommunications) code, plus, sending cash to those friends who could fly into the impacted areas. 
"Who are the people ready to receive our money within the next business day and who were the people we knew who could actually work with every cent that we have fundraised within the hour," Aboukhater said. "That was the first and only calculation that we had to make because we were just focused on getting the money as fast as possible."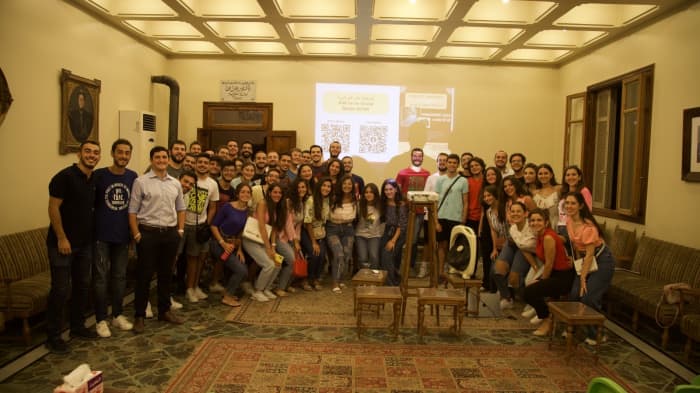 Aboukhater's group posted about their fundraising efforts on social media on Feb. 7 and advised members to avoid using "Syria," "Syrian," or "Aleppo," in the caption of their team's Paypal or Venmo accounts, to avoid having transactions put on hold. 
Still, right from the start, Venmo notified them a $5 donation that came in captioned "Syria" would be held for review and asked the group to provide details about their fundraising efforts. 
"Please know that every extra hour that the money is withheld, it's being withheld from people in humanitarian aid," Aboukhater replied in an email to Venmo on Feb 7, a day after the first earthquake hit Syria. 
A day later, the U.S. Treasury Department issued a general license authorizing transactions related to earthquake relief efforts in Syria for 6 months. At the time, Wally Ademayo, deputy treasury secretary, said in a statement that the U.S. sanctions programs already contain "robust exemptions for humanitarian efforts," but added that the new general license is a blanket order "so that those providing assistance can focus on what's needed most: saving lives and rebuilding." Said Ademayo: "I want to make very clear that U.S. sanctions in Syria will not stand in the way of life-saving efforts for the Syrian people."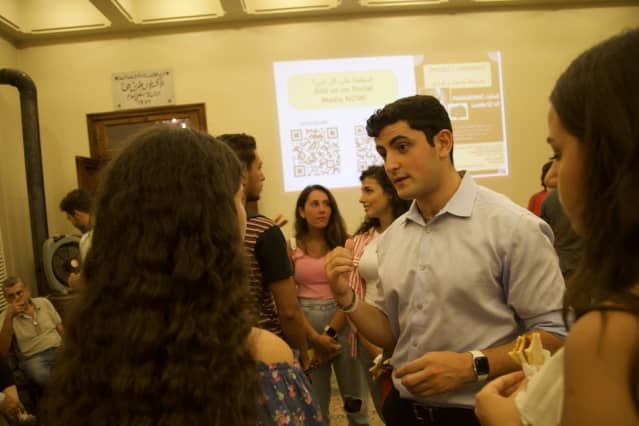 Nevertheless, Aboukhater's fundraising efforts didn't get much easier. Two weeks after the Treasury issued its general license, Aboukhater received a call from Bank of America, asking him to explain the $2,100 he had sent some nine days earlier to the Syrian Arab Red Crescent Society. The man representing the U.S. bank let the transaction pass through after Aboukhater said the transaction was for humanitarian needs. 
"But then I asked him, how is it that I didn't know that this transfer was halted" for the last nine days? Aboukhater said. "We initiated this transfer days ago," Aboukhater added, "but only now today, I'm getting a call from Bank of America while I'm in France, telling me this transfer has not made it to its end destination."
Aboukhater sent the money on Feb. 13 and thought it had arrived three business days later on Feb. 16 as suggested on the receipt. Another receipt arrived in his inbox on Feb. 22 after the funds finally went through. Both receipts were reviewed by MarketWatch.
"We are reviewing and expediting transactions for humanitarian relief while complying with sanctions requirements," a spokesperson at Bank of America
BAC,
+2.00%
told MarketWatch in an email. 
""I don't know how many of the donations that we were supposed to receive, are still on hold because there's no way for me to find that out" "
The Syrian Arab Red Crescent has been trying to navigate the sanctions situation. "The situation in Syria is challenging and the humanitarian response is complex," a spokesperson for the organization said in response to MarketWatch's request for comment. "Sanctions have an unintended yet direct impact on the scope and efficacy of our humanitarian response, in terms of critical logistic pipelines and financial channels and therefore on vulnerable people."
On the flip side, the general license and the correspondence with Venmo have facilitated the transfer of at least one older donation to Aboukhater's group. A $50 contribution that Aboukhater's professor sent in October finally arrived in Project Onwards' Venmo account on Feb 22. Its caption read: "For all your good work in Aleppo."
"I don't know how many of the donations that we were supposed to receive are still on hold because there's no way for me to find that out," Aboukhater told MarketWatch. 
While Paypal has to comply with U.S. sanctions, it is still able to process payments that support earthquake-relief efforts, a PayPal spokesperson said in response to MarketWatch's request to comment on behalf of Venmo. PayPal
PYPL,
+2.96%
is the parent company of Venmo. 
The sanctions and the general license
The Syria sanctions program administered by the Treasury Department's Office of Foreign Assets Control (OFAC) began in 2004. It became one of the strictest sanction programs after the Obama-era White House bolstered the program on the Syrian regime following the major civil uprising that started in March 2011. 
The section of Syria most impacted by the earthquake has endured 12 years of civil war and is split among different groups, which make it even harder to provide aid to hard-hit areas. Little international aid entered Syria for nearly a week following the earthquake. In contrast, funds poured into Turkey almost immediately. 
OFAC and the Treasury Department did not respond to MarketWatch's request for comment.
The issue for financial firms, both big and small, that must comply with the U.S. sanctions on Syria, is that there is a lot of risk in facilitating transactions headed for Syria. If they are found to be violating OFAC compliance, institutions could face immense fines. In one extreme case in 2015, BNP Paribas, the big French bank, agreed to plead guilty and pay a fine of $8.9 billion, according to the Department of Justice. The fine was for processing billions of dollars of transactions through the U.S. financial system on behalf of the Sudanese, Iranian and Cuban entities, which are also on the U.S. Treasury Department's sanctions list. 
Although the general license for earthquake relief has helped humanitarian organizations convince banks to process aid funds to Syria, many difficulties surrounding facilitating those transfers remain, said the International Crisis Group's Simon.
To comply with OFAC, big banks and smaller financial firms, like Venmo and GoFundMe, have set up a review process for targeted transactions. Transactions that include "Syria," "Syrian," "Aleppo," or a Syrian flag might receive an alert that they are under review and the donor could receive communication from the companies on the use of the money. Depending on the donor's reaction, their response time and different platforms, the review process can take anywhere from a few hours to days. 
"Venmo, like other U.S. financial institutions, screens payment activity and flags any payments that may violate U.S. economic sanctions administered by the U.S. Department of the Treasury's Office of Foreign Assets Control (OFAC). This includes screening payment notes for references to certain sanctioned countries, individuals, and organizations included on OFAC's list of Specially Designated Nationals," the company has previously said. The review process should take no more than 72 hours, the company said. 
Because the U.S. financial system and U.S.-based firms dominate so much of the global financial system, consumers, fundraising efforts, and financial firms all over the world must grapple with OFAC compliance.  
Razan Kh, a pharmacist based in Milan, Italy, started a fundraiser via GoFundMe with a friend for their home community in Syria. Kh said she plans on sending the money to either a family member in Syria or Mulham Team, a non-profit based in Jordan aiming to help displaced Syrian refugees. The fundraiser was in review for four days by GoFundMe before it could launch.
The review process could take up to seven days and all fundraisers to aid Syria will go through the review after they are created, a spokesperson of GoFundMe said in an email to MarketWatch. 
'They keep thinking that they're shaking'
In addition to the chilling effects on financial firms, the existing sanctions can also discourage individuals who would otherwise want to help.
A friend told Aboukhater in Paris that he wanted to help the Syrian-relief effort, but he was concerned about jeopardizing applications he planned to soon submit to graduate school programs in the U.S. Instead, the friend met Aboukhater in person and gave him a $150 donation in cash. 
The Treasury Department said on Feb. 21 that non-U.S. persons "do not risk exposure to U.S. sanctions for engaging in activity that is authorized for U.S. persons. Although fear of sanctions violation might be due to a misunderstanding, Aboukhater said his experience shows how much fear there is of the sanctions regime that is directed against Syria. "That gives you an idea of how many loopholes we need to find and how many obstacles we need to find our way around," he said.
For Aboukhater, the relief effort is personal. His aunt's family in Syria regularly flees their building whenever they fear their building is moving and might collapse, Aboukhater said. Every room on each floor has a bowl of water, his aunt told him, acting as a warning mechanism.
"They keep thinking that they're shaking," he said. 
The other day, Aboukhater sat down with several other Syrians who are also living in Paris. Once they started talking about the earthquake, they each teared up.
"We have this immense grief that we can't explain. We're not allowed to really complain, because we're not in Syria," Aboukhater said.
[ad_2]