[ad_1]

American women with children want bigger family rooms and better-equipped kitchens, and they place greater value on wellness features, according to a new survey.
The America at Home survey looked at how 3,000 men and women age 25 to 74, both with and without children, prioritized what they wanted in a home. The survey was conducted in three parts, with the part covered in this article carried out in October 2022.
The gender breakdown was provided to MarketWatch by the creators of the survey.
Homeownership is regarded as a key part of the American dream, but with a low number of homes currently on the market, buyers are facing limited options. Existing-home inventory is tight, as many homeowners are choosing not to sell and give up their ultralow mortgage rates. 
Construction of new homes is rising, but it's an expensive option. The median price of a newly built home was over $400,000 in January. 
To entice buyers, home builders are lowering prices or offering perks such as rate buy-downs. They're also catering to the specific needs and wishes of both men and women.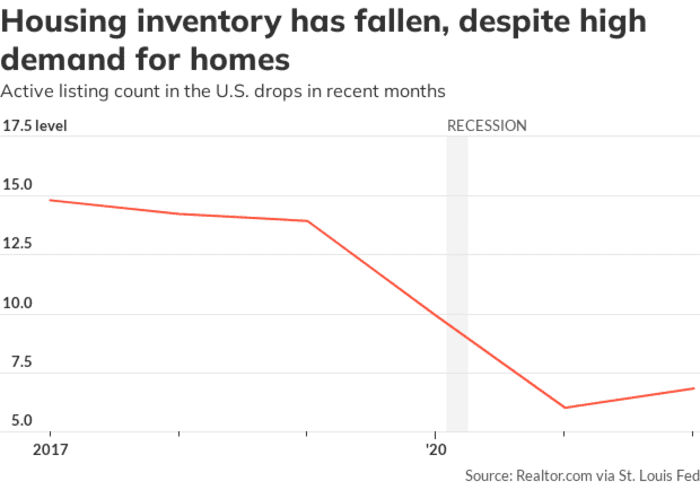 Darian Wagner, an architect and designer at Dahlin Group, told MarketWatch that the researchers created a "target family" — a wife, husband and two small children — and "pinpointed how the house can actually participate in the caregiving for the family."
The research highlighted how the presence of children had more of an impact than gender on preferences for housing layouts and space, specifically when it came to what participants considered the most important room of the house.
Women and men with kids both prioritized the family room and kitchen as the most important rooms. But women put a bigger emphasis on these rooms, with 48% of respondents indicating that the family room is the most important, versus 41% of male respondents. For the kitchen, 20% of women with kids considered it a priority, versus 13% of men with kids.
Single women and men without kids, on the other hand, both placed a big emphasis on the primary bedroom being the most important room in the house.
The survey also found that women with kids prioritized a kitchen that was well equipped, along with a "wellness-spa bath." 
Some 8% of men, meanwhile, considered garages to be an important space in their home, while 0% of women thought the same, the survey found.
Men also considered energy conservation to be a priority. In contrast, women desired private outdoor spaces or gardens, a home that conserves water and a desire to eliminate chemicals from their home.
Having a deeper understanding of what families want helps builders design spaces that will be more attractive to buyers, Wagner said.
"You can feel it when you walk into that house and a woman's standpoint will just be like, yeah, it works for me," she added.
Nearly all (93%) of the survey respondents associate home with a safe space, followed by a place of comfort (91%) and a place of relaxation (87%).
Wagner said that the company tries to design spaces that specifically focus on those ideas, saying: "How do you, as a designer, create a feeling to provide a safe home?"
What if, for instance, one spouse travels a lot for work? "I'm always, like, who's at the door, and I don't know if I really want them to see in," Wagner said. So she asks herself: "How do I create a setting where I feel safe when [the other person is] not home?"
"So it's really interesting when you start thinking about those things," she added. "We can actually design with that empathy in mind for how the home can function better and care for the people inhabiting it."
[ad_2]