[ad_1]

Americans are finding it hard to afford homes at mortgage levels now beyond 7%, according to some measures. Home prices have begun to reflect that.
As mortgage rates rose in the last quarter of 2022, Americans found the cost of homeownership increasingly challenging, adding hundreds of dollars in interest to their potential monthly mortgage payment. Yet home prices held steady, given how few homes were on the market.
But months of high mortgage rates and a drop in home sales are finally impacting home prices. Single-family home prices slid 1% in January, as compared to December 2022, according to data from Moody's Analytics.
"The U.S. housing market is crumbling under the weight of higher mortgage rates and rock-bottom affordability," Matthew Walsh, Moody's Analytics housing economist, said.
Alaska had the biggest decline in month-over-month prices. Home prices fell by 4.9% in January. New Mexico and Wyoming followed, with a 3.8% decline. Mississippi took the next spot with home prices dropping 3.7% in January as compared to the month before.
However, it wasn't all bad news. House prices also rose month-over-month in Indiana, by 2.2%, West Virginia, by 1.1% and Vermont by 1%. 
But looking at prices year-over-year, the West Coast is leading the drop, Moody's Analytics said, with California, Nevada and Washington reporting values below what they saw in 2022.
The median price of an existing home was $359,000 in January, according to the National Association of Realtors. The median price of a new home sold in January was $427,500, according to Census data.
To be clear, home prices aren't crashing, but rather falling gradually as buyer demand dries up. 
Part of the reason why sales aren't moving more is because sellers are reluctant to list. Having secured an ultra-low mortgage rate over the last two years, there's little interest in giving up that deal.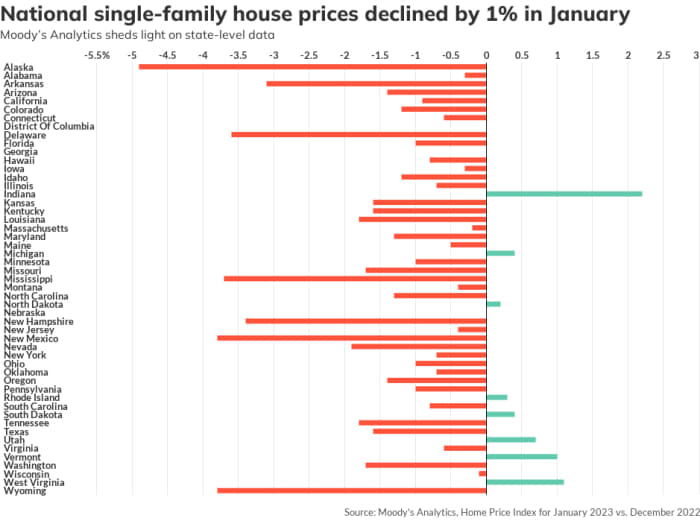 "There were fewer new listings in January than at any point on record, with the exception of the start of the pandemic," Taylor Marr, deputy chief economist at Redfin, said in a recent report. 
"That hampered demand because it meant that many of the buyers who were still in the market had a tough time finding a home that met their needs. The shortage of homes for sale also buoyed home prices," he added.
Home purchase applications have dropped to the lowest level in 28 years, the Mortgage Bankers Association said this week.
"Following two years of double-digit price growth, the housing market is extremely overvalued, and affordability is near a three-decade low," Walsh wrote in a note.
"The housing market will descend further into correction through 2023. Our baseline forecast expects that house prices will decline by 5% to 10% over the
next two years," he added.
He expected home prices to go back to 2021 levels by 2025.
[ad_2]