[ad_1]

You could say Chloe Fineman lives her life through others.
The "Saturday Night Live" cast member is perhaps best known for her impressions of such celebrities and public figures as Jennifer Coolidge, Reese Witherspoon, Drew Barrymore, Nancy Pelosi and Timothée Chalamet. But her work on the show — she's been with "SNL" since 2019 — has encompassed much more. Remember her uproarious take on Airbnb
ABNB,
+2.74%
in which she played both host and guest in a mock commercial?
Fineman, a 34-year-old California native, also has a story that goes beyond "SNL." She's appeared in feature films such as "Babylon" and "Father of the Bride." And she recently signed on to promote Nütrl, a spirits-based seltzer brand owned by Anheuser-Busch
BUD,
+1.62%,
with a series of fun commercials.
MarketWatch caught up last week with Fineman to ask about her work and to get her takes on all things financial. Here are edited excerpts from that conversation.
MarketWatch: How do you come up with a good impression?
Fineman: Oh gosh, I think no matter what, it comes from loving a person. Maybe the love turns into an obsession in, like, watching them. l focus on them and then, I don't know, this witchy thing happens in the night and then [the impression] just exists.
MarketWatch: Is there a favorite host you've worked with on "SNL"?
Fineman: I personally gravitate towards the actor hosts, just cause I think there's a fearlessness in the range that they have. But then you're like, "Damn, Jack Harlow, what a great episode!" So you just really never know. Every week surprises me.
MarketWatch: Tell us a little bit about how and why you got involved with Nütrl, and about this character, Günter, that you've created for the commercials.
Fineman: Günter has always existed a little bit inside of me. It was fun to get to do a quirky oddball who has exquisite taste as a vodka sommelier. And yeah, I like Nütrl and I like cleaner drinks — vodka, seltzer, real juice [the key ingredients in Nütrl]. And I like fruit, so I was definitely down [to do the campaign].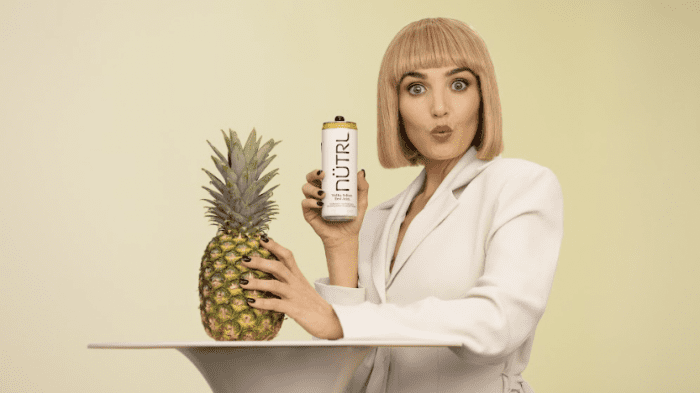 MarketWatch: What's the best piece of financial advice you've ever gotten?
Fineman: I can give you my favorite one, which came from Lorne [Michaels, the longtime producer of "SNL"]. He said you always want to live in a place you can't quite afford, which is a very New York thing to say.
MarketWatch: That's fascinating, especially in an era of sky-high rents in the city. What do you think the logic is there?
Fineman: I do think it's motivated me to work 10 times harder than I probably would. And I'm very happy working. 
MarketWatch: What do you hate spending money on?
Fineman: I mean, my dog just chewed an antique [leather chair], so yeah, I hate spending on things my dog has destroyed. That's for sure.
MarketWatch: What's a money mistake you've made?
Fineman: I have a sunglasses problem. That is my money mistake. I'm kind of a hoarder with sunglasses.
MarketWatch: A favorite possession?
Fineman: My dog. He's the love of my life. He's my child, I feel like I birthed him from my loins. He keeps me whole. 
MarketWatch: Do you ever think you'll retire?
Fineman: I don't think so. I think I'm happiest working, which is kind of sick and twisted. So I'll definitely be doing it as long as I can.
MarketWatch: Final question: What's a job you'd do even if you didn't get paid?
Fineman: Comedy for sure. And [for] forever I wasn't getting paid.
[ad_2]