[ad_1]

Our daughter passed away at the beginning of the coronavirus pandemic. She had gone through a recent divorce and, as her marriage was falling apart, she had developed a severe drinking problem. She was smart and beautiful, had a great career as an engineer and was well respected by her peers. 
After her divorce was finalized, things got worse. She got two DUIs in less than three months. She finally went to rehab, and it seemed like she was getting her life back on track. She went back to work in March 2020, but then the coronavirus hit, and she was instructed to work from home as businesses across the country shut down.
At the same time, she was on house arrest for a week due to the DUI, and I think the isolation was too much for her and she relapsed. Long story short: She became ill, and by the time she got to the hospital, she was critically ill. She lived for another week but went into multisystem organ failure. We withdrew care as there was already extensive brain damage.
Our daughter had good benefits because she worked for the city government. Unfortunately, she had not changed the beneficiary on her accounts: They still listed her ex-husband. Their divorce was very contentious and I know she was heartbroken. She felt like he had abandoned her.
We notified him when she was in the hospital and he was extremely upset. 
"'I know he is not required to give it to us, but there is still a part of me that is angry knowing how much our daughter was hurt from the pain he caused her.'"
We couldn't have a funeral until several months later, and then only 25 people could attend. We included him in the services and even gave him the dog they had gotten when they were together, which our daughter had kept. They did not have any children. Our daughter had a life-insurance policy, and her ex gave us the proceeds from that.
I know he felt tremendous guilt after she died. Our daughter also had a death benefit that will provide her ex-husband with a monthly sum until his death. Her ex tried to get it transferred to us, and even hired a lawyer to see what could be done, but it had to go to the beneficiary listed. He said he would put that money in a separate account to give to us at a later date. 
We have stayed in touch, getting together on her birthday and going out to dinner once in a while. He started dating again, met a woman and eventually moved to another city. He said he moved partly because the memories where we lived were too painful. He has not given us any more of the money, and I'm torn about whether to ask him for it. 
I know he is not required to give it to us, but there is still a part of me that is angry knowing how much our daughter was hurt from the pain he caused her. It is not a large monthly payment, but over time, it would add up to a substantial amount, and my husband and I could put it toward our retirement. It has been almost three years since she passed.
What are your thoughts on this?
A Brokenhearted Mom
Dear Brokenhearted,
You have been through a terrible time. I'm sorry that your daughter did not find ongoing sobriety, despite having fought hard for it. Those early days of the pandemic were a difficult period for millions of people, but especially for people who were dealing with loneliness, substance abuse, mental-health issues and domestic abuse.
I understand that you are angry with your former son-in-law because you know how much pain your daughter was in, and because she didn't get the kind of support she needed. But I caution you not to reduce your feelings about him, and your view of their relationship, to simply his lack of support. Rarely do substance-abuse issues develop overnight. Rather, they tend to worsen over time.
No one can know what went on in a relationship or which parties should shoulder the blame for a breakup. I am skeptical of anyone who comes out of a marriage or relationship and says everything was all the other person's fault — with the exception of situations where one party was the victim of domestic abuse. Most of the time, it's better to see things as 50/50.
Your daughter's ex-husband, as you correctly point out, is legally and ethically entitled to the income left to him from her life-insurance policy and from any other accounts where he is listed as beneficiary. It seems like he has moved on with his life and wants to start afresh. He told you he would pass along that money to you in time. He may or may not fulfill that pledge.
"I don't believe it will make you happy or healthy to hold him to a promise he made in the weeks or months after your daughter's death. Emotions were running high. He was grieving, as were you."
He was married to your daughter, and he may feel like that money is rightfully his. It could be that he needs the money or has seen how it could help him rebuild his life and start anew. I don't believe it will make you happy or healthy to hold him to a promise he made in the weeks or months after your daughter's death. Emotions were running high. He was grieving, as were you.
This money represents your daughter at her best — working hard and expressing her talents as an engineer — and it reflects the high esteem in which she was held. You should embrace that. If you did pursue him, he might relent and set up an automatic payment — or he could come to believe that you were not interested in maintaining a relationship with him for any other reason than a financial one.
But the money belongs to your former son-in-law, so I gently suggest that you accept that and let it go. If he does send money to you, thank him for it, but see it as a gift and not as an obligation that must continue for years to come. This is an awkward and frustrating situation, but it won't help you to process the loss of your daughter. Hanging onto this may do the opposite and hold you back.
I understand that this money would help you in your retirement, but I also feel sure that your daughter would want you to look to the future without rancor. Thank the gods that you had her for as long as you did. She was smart and talented and beautiful, and the world experienced those gifts. Free yourself from any anger that may have resulted from her relationship with her ex-husband.
Then let him go, and wish him well.
The Substance Abuse and Mental Health Services Administration, a branch of the U.S. Department of Health and Human Services, aims to help families dealing with addiction issues. It offers advice on how to start a conversation with a loved one: "1. Identify an appropriate time and place. 2. Express concerns, and be direct. 3. Acknowledge their feelings and listen. 4. Offer to help. 5. Be patient."
If you or a family member need help with a mental-health or substance-use disorder, call the SAMHSA National Helpline at 1-800-662-HELP (4357) or TTY: 1-800-487-4889. You can also text your ZIP code to 435748 (HELP4U) or use SAMHSA's Behavioral Health Treatment Services Locator to get help. Find more resources and advice for families from SAMHSA here.
Other resources for people with family members who have addiction issues include "Beyond Addiction: How Science and Kindness Help People Change," a book from the Center for Motivation and Change; and the CRAFT approach, a way to encourage a family member to engage in treatment that was developed by Dr. Robert Meyers, who has been working in the field of addiction for four decades.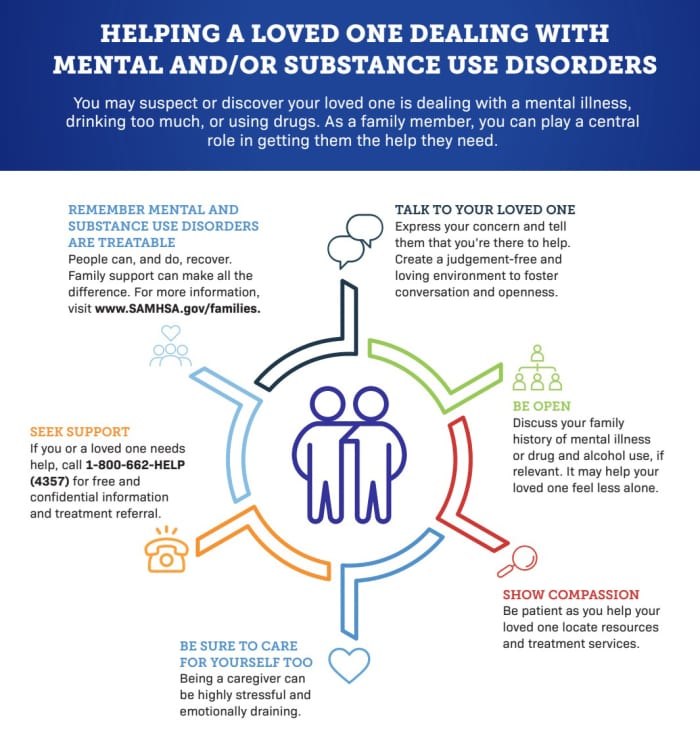 You can email The Moneyist with any financial and ethical questions at qfottrell@marketwatch.com, and follow Quentin Fottrell on Twitter.
Check out the Moneyist private Facebook group, where we look for answers to life's thorniest money issues. Readers write in to me with all sorts of dilemmas. Post your questions, tell me what you want to know more about, or weigh in on the latest Moneyist columns.
The Moneyist regrets he cannot reply to questions individually.
More from Quentin Fottrell:
'I don't use cash': I'm 70 and my home is paid off. I live off Social Security, and I use a credit card for all my spending. Is that risky?
'The wheels came off our relationship': My ex-boyfriend paid $2,000 for a vacation. Now he wants his money back. Am I obligated to pay?
'I feel very hurt': My late wife's parents cut me out of their will — and reduced my daughter's inheritance. We're being punished after I remarried. What do we do?


[ad_2]