[ad_1]

The intrinsic value of a stock is the cash the company generates for its shareholders. During the dot-com bubble, most dot-com companies had no profits. If investors had bothered to notice this, they might have been skeptical rather than delirious. Instead, they focused on new metrics for the so-called New Economy — a company's sales, spending, and website visitors.
Companies obliged by giving investors what they wanted. Investors want more sales? I'll sell something to your company and you sell it back to me. No profits for either of us, but higher sales for both of us. Investors want more spending? Order another thousand desk chairs. Investors want more website visitors? Give stuff away to people who visit our website.
One measure of traffic was "eyeballs," the number of people who visited a web page; another was the number of people who stayed for at least three minutes. Even more fanciful was "hits," the number of files requested when a web page is downloaded from a server. Companies put dozens of images on a page, and each image loaded from the server counted as a hit.
Incredibly, investors thought this meant something important. It ended badly of course — as all bubbles do.
" 'We're losing money on every sale but we'll make it up in volume.' "
Sometimes companies can boost revenue by losing money. Businesses in fields as diverse as ride hailing, food delivery and online mental health have juiced sales by cutting prices drastically or spending lavishly on advertising, hoping that investors are watching revenue instead of profits — which reminds us of the old joke, "Yeah, we're losing money on every sale but we'll make it up in volume."
Palantir Technologies
PLTR,
-0.74%
is an example. Co-founded by Peter Thiel in 2003 as a big-data analytics company, its rise began during the AI frenzy of 2010s and the 2020 COVID pandemic. Palantir IPO'ed on Sept. 30, 2020 with a reference price of $7.25 per share, and closed that day at $9.50. By February 2021 its share price was above $38 and its market capitalization was $70 billion. Palantir now has almost $6 billion in cumulative losses and its stock is down about 80% from its peak.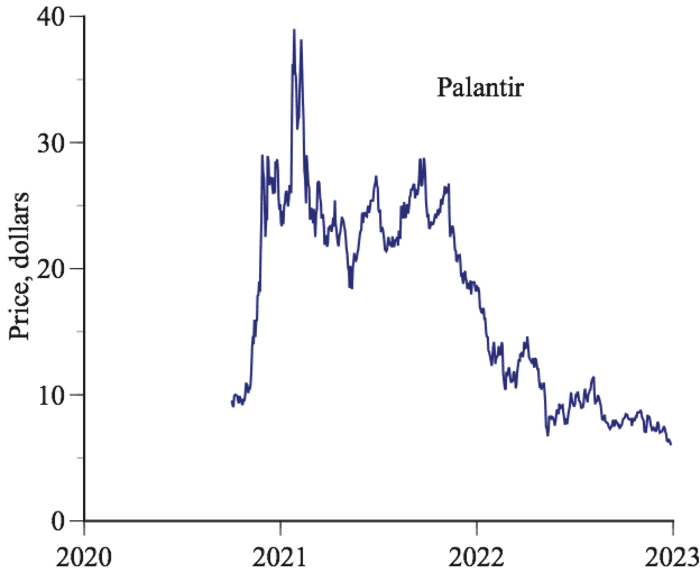 Although Palantir's price collapse was partly due to this year's tech meltdown, the Wall Street Journal has reported that it was also a casualty of some business practices that harken back to dot-com antics. Palantir invested in several money-losing startups while signing offsetting revenue contracts. Some deals called for startups to pay Palantir back large chunks of Palantir's investment within days of receiving the money.
What a great way to generate revenue and create a high-growth illusion. Invest in startups that are faking it while requiring them to return some or all of the money via a purported sale of software or services. Most of these companies went public via special-purpose acquisition companies (SPACs), which surged as an alternative public-listing technique during the past few years.
Palantir's 20 startup investments have been hit hard, according to the Journal report. Lilium, for example, is a flying taxi company with no revenue that is at least three years away from starting production. Palantir invested $41 million in Lilium and Lilium signed a five-year contract that paid Palantir $50 million. In another deal, online grocery-delivery company Boxed received $20 million and signed a five-year, $20 million contract. Days after receiving Palantir's money, Boxed paid $15 million to Palantir as part of the contract. 
Of those 20 startups, one has gone bankrupt and one has been delisted from the New York Stock Exchange. At least 11 have issued notices saying they had "substantial doubt" about their ability to survive another year without raising more money. Those include electric-vehicle-data company Wejo, electric-car startup Faraday Future, and scooter firm Bird Global. Many will reportedly run out of cash in a few months. 
Palantir recently announced the first profitable quarter in its 20-year history and the stock popped, though it has slid since and is close to 80% below its January 2021 high. Making money is better than losing money but that first-ever profit was a puny penny per share. There are plenty of reasons for continuing skepticism and we are among the skeptics.
Palantir did not respond to an email request for comment for this article. The Journal report included this statement from a company spokeswoman: "The market has turned and it is now clear that these investments were unsuccessful. It was a bet on a group of early stage companies that, with the benefit of hindsight, we wish we did not make." 
" It is tempting to believe the hyperbole and to prioritize revenue over profits. "
The AI bubble is fueled by unwarranted hype and  fake-it-til-you-make-it shenanigans. It is tempting to believe the hyperbole and to prioritize revenue over profits.
The fundamental problem is that hopeful investors are too often gullible investors. We should have been more skeptical of the dot-com hype and we should be more skeptical of the AI hype. We should also remember that revenue is a means to the end, not the end. We should look instead at earnings, free cash flow, economic value added, and other measures of profitability. When companies are prone to fake-it-till-you-make-it deceptions, we need to double our effort to buyer beware.
Jeffrey Lee Funk is an independent technology consultant. Gary Smith, Fletcher Jones Professor of Economics at Pomona College, is the author of dozens of research articles and 16 books, most recently, Distrust: Big Data, Data-Torturing, and the Assault on Science (Oxford University Press, 2023). They have no position in any of the companies mentioned in this article.
More: Want to play the lottery? These are the most speculative stocks of the year, by one measure
[ad_2]