[ad_1]

Americans have suffered through one supply-chain issue after another in recent years. But are they ready to grapple with the great Samoas shortage of 2023?
Yes, we're talking about the Girl Scout cookie favorite, billed as "crisp cookies, coated in caramel, sprinkled with toasted coconut, and striped with dark chocolaty coating." Fans of Samoas are protesting on social media that they can't find the sweet treats, which are sold by Girl Scout troops as part of an annual fundraising drive.
It's a problem also acknowledged by those on the front lines — namely, parents who help their children sell the cookies, which are typically made available in the late winter and early spring. Some told MarketWatch that supplies are low or nonexistent for the Samoas as well as other cookies, including the newly introduced Raspberry Rally (sold online only).
"We're disappointing people," said Maryland resident Mary Kathryn Lee, a parent of a Girl Scout troop member. Lee said her daughter's troop was advised there may be more Samoas coming by the end of the weeks-long cookie season.
Girl Scouts officials declined to comment about the situation. Parents told MarketWatch that the shortages can vary from market to market as different bakeries produce the cookies across the country.
For Oregon resident Camille Kea, the shortages meant that her daughter's Girl Scout troop had no cookies at all to sell at the start of the season — affecting not just the Samoas, but everything from Thin Mints to Tagalongs and Do-si-dos.
"We are like, 'Oh my goodness!' " Kea said. "We lost several weeks because there were supply issues with the bakery."
Still, Kea is hopeful the troop can make up for lost time with a big push during the spring-break period now that it has the cookies to sell.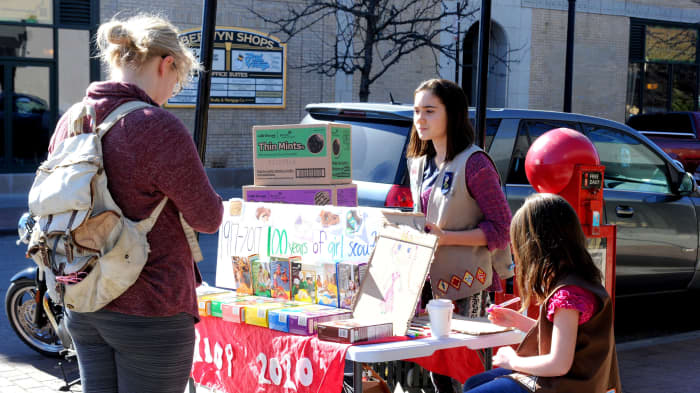 Troops receive a portion of the sales to fund their activities. For many troops, the cookie drive is the biggest way they make money, which is why the delays and shortages are so worrisome, parents told MarketWatch.
Sales from cookies "are usually our entire budget for the year," said Florida resident Rebecca Ott, speaking of her two daughters' Girl Scout troop.
As challenging as the current situation may be, this isn't the first time Girl Scout troops have faced cookie shortages. The issue has come up especially in the past few years, as supply-chain problems have become a common woe in this country.
"It's unfortunate, but it's true," said one North Carolina television reporter last year of the cookie crisis.
[ad_2]