[ad_1]

KFC may be getting buzz for bringing back the Double Down sandwich, which swaps the bread for two fried-chicken filets. But when it comes to innovation on the sandwich-substitutions front, the Double Down doesn't stand alone.
In fact, plenty of restaurants have touted bread alternatives in recent years — and not just the lettuce leaves that have become a low-carb mainstay.
Think of the doughnut burger — yes, with sticky, glazed doughnuts instead of a sesame seed bun — that is now something of a staple at state and local fairs as an over-the-top treat that goes beyond, say, fried Oreos.
Or look at subs made with pickles halves as the "bread" — another low-carb alternative, but with a briny twist. You'll find plenty of recipes for them online. They're also a beloved feature on the menu of Elsie's Sub Shop, a legendary New Jersey institution.
And the Yum Brands-owned
YUM,
+0.77%
KFC is hardly the only chain restaurant to play with the bread alternative idea. McDonald's
MCD,
+0.56%
has its breakfast-time McGriddles, with "griddle cakes" (similar to pancakes) playing the part of bread. And Johnny Rockets
FAT,
+7.55%
just announced that it's rolling out a chicken-and-waffle sandwich made with Eggo Waffles
K,
-0.43%.
And let's not forget Taco Bell
YUM,
+0.77%,
which once made "Think outside the bun" its slogan.
So what's behind the bread-less boom? Sam E. Goldberg, a food influencer with the Respectthechain site, says it all has to do with the power of social media. That is, restaurants want to offer menu items that will get tongues wagging and be featured on Instagram
META,
+6.14%
posts or TikTok videos.
And a sandwich with bread just doesn't cut the mustard, so to speak.
"Bread is boring," Goldberg said.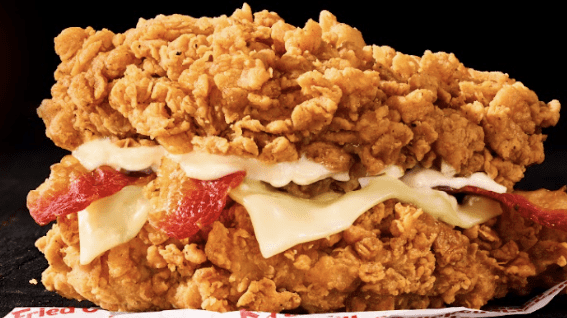 Meanwhile, KFC appears to be full-steam ahead with its Double Down rollout, which is scheduled to begin March 6 after an almost 10-year hiatus. The sandwich was originally introduced in 2010.
"After nearly a decade of people begging for its return, we're embracing the chaos," said KFC marketing executive Nick Chavez in a statement.
But don't count Alper Uyanik among those people lining up for the meat-on-meat sandwich. The proprietor of Harlem Burger Co., a popular New York City restaurant, believes that burgers and sandwiches should be made with buns or slices of bread. Anything else is heresy, he argues.
"It detracts from the meat," he said.
[ad_2]