[ad_1]

The numbers: The U.S. created a robust 311,000 new jobs in February, raising the odds of another sharp hike in interest rates by the Federal Reserve later this month.
Economists polled by The Wall Street Journal had forecast 225,000 new jobs.
The increase in employment last month followed a revised 504,000 gain (initially 517,000) in January, the government said Friday.
The large back-to-back increases could force the Fed to raise interest rates higher than it had planned to slow the economy and loosen up the tightest labor market in decades. The central bank meets March 21-22 to plot its next move.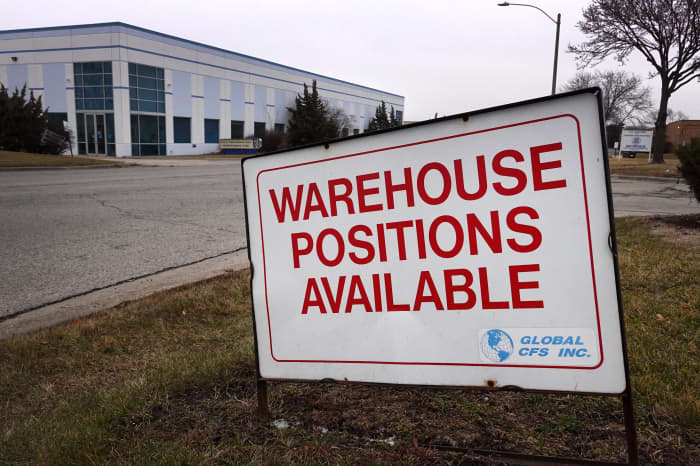 Yet there were a few glimmers of hope for the Fed.
The unemployment rate rose a few ticks to 3.6%. Hourly wages rose just 0.2% to mark the smallest increase in a year. And the share of able-bodied people in the labor force climbed to a three-year high.
All of these are pressure valves on the labor market and the broader economy from high inflation.
Investors appeared to put more weight on those factors than another big increase in employment. Stocks rose and bond yields fell.
Big picture: An expanding U.S. economy has shown lots of resilience in the face of rising interest rates, but analysts doubt the good times can last. Higher borrowing costs typically slow the economy by depressing consumer spending and business investment.
Just look at the housing market, where soaring mortgage rates have crushed sales and new construction. The same could happen to the rest of the economy if the Fed has to jack up rates more than Wall Street expects.
Already, a robust U.S. labor market is showing signs of fraying. Job postings have declined, lots of large companies have announced layoffs and workers who lose a job are taking longer to find a new one.
It just might not be enough for the Fed.
Market reaction:  The Dow Jones Industrial Average
DJIA,
-1.66%
and S&P 500
SPX,
-1.85%
trimmed premarket losses in Friday trades. The yield on the 10-year Treasury fell to 3.78%.
Investors hope some signs of cooling in the labor market will encourage the Fed to keep raising interest rates in smaller increments.
[ad_2]