[ad_1]

A leading infectious-disease expert said this week that data is showing the coronavirus has moved to the endemic phase, meaning that COVID-19 is still with us but no longer causing huge waves of illness or clogging up healthcare systems.
Eric Topol, the chair of innovative medicine at Scripps Research in La Jolla, Calif., said all indications from genomic surveillance of the virus, wastewater and clinical outcomes that are still being tracked point to an endemic phase. The caveat is that monitoring is more limited now and tracking is happening at lower frequency.
Nonetheless, "there are no new SARS-CoV-2 variants that have yet cropped up with a growth advantage over XBB.1.5 (the recombinant with two significant mutations added on), which is dominant throughout much of the world, or its cousin, XBB.1.91.1," Topol wrote in his Ground Truths Substack column.
"For all the talk about the convergent 'variant soup' that preceded the most recent wave, the XBBs took hold and are not giving way to a long list of omicron family sub-variants," he added.
The New York Times daily tracker shows that cases are now averaging around 29,558 a day, down 15% from two weeks ago and at a level last seen around April 2022.
Hospitalizations are down 11% at 24,965 a day. But the daily average death toll stands at 401, up 21% from two weeks ago and an undesirably high number.
The Johns Hopkins University global tracker will stop collecting data on Saturday, which marks the third anniversary of the World Health Organization's declaration of a global state of emergency.
The tracker shows there have been 676.6 million cases of COVID and 6.8 million deaths globally since the start of the crisis. The U.S. leads the world with 103.8 million cases and 1.12 million deaths.
The WHO counted nearly 4.5 million new COVID cases globally in the 28-day period through March 5, down 58% from the previous period, according to its weekly epidemiological update. The agency said some 32,000 deaths were reported, down 65% from the previous 28-day period.
As has become its practice, it cautioned that an overall pullback in testing means those numbers are likely an undercount as prevalence surveys show higher ones.
The WHO is now monitoring one variant of concern, namely omicron, and seven of its subvariants. The following table shows the weekly prevalence of those subvariants over time: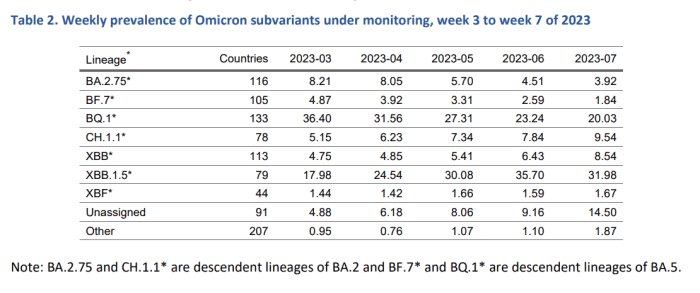 A new Gallup poll, meanwhile, shows Americans are evenly divided over whether or not the pandemic is over: Some 49% say it is, while 51% say it's not.
Gallup first started asking the American public its views on the topic in June 2021, a time when many states were lifting restrictions on movement as the vaccine rollout was underway. At the time, just 29% of those polled said they thought the pandemic was over, giving way to a less upbeat 18% by fall of that year.
"Since then, optimism has mostly only inched higher, rising to 34% last spring and to 44% in October before reaching 49% today," said Gallup.
A quarter of those polled said they are very or somewhat worried about contracting COVID. That was split between 3% who are very worried and 22% who are somewhat worried. Concerns spiked at 50% in January 2022, when omicron first started to circulate.
The Gallup survey also found that many Americans are still at least partially isolating to protect themselves from the virus. Some 23% of those polled said they are still avoiding crowds, 18% are avoiding travel by air or public transportation and 14% are avoiding public places such as stores and restaurants. Just 10% are even avoiding small gatherings.
But most people are no longer wearing face masks, with just 31% saying they still use one.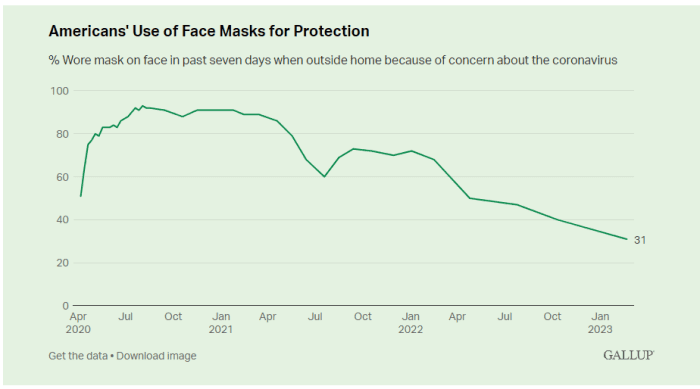 A small majority of those surveyed, or 52%, said they have tested positive for COVID. Another 13% said they had not, but believed they have had the virus.
As many as 83% of Americans may have some immunity against the virus due to the higher number that have had it and the 63% who are vaccinated, the survey found.
[ad_2]