[ad_1]

It's been almost a year since the Oscar slap that shocked the world, and Chris Rock is reportedly ready to come back swinging at Will Smith. (Verbally, that is.) 
Netflix
NFLX,
+1.06%
is streaming its first-ever live event, "Chris Rock: Selective Outrage," on Saturday at 10 p.m. Eastern time (7 p.m. Pacific time). Rock and Netflix committed to doing the live special in September 2021, the Wall Street Journal reported. The show is the second of two Netflix comedy specials that Rock committed to when he signed a $40 million deal with the streaming service in 2016.
Rock, 58, has largely kept quiet about the incident at last year's Oscars ceremony, when Smith responded to a joke Rock cracked about the "Ali" actor's wife, Jada Pinkett Smith, by walking onstage and slapping Rock across the face. But Rock's hotly anticipated live special is expected to be the night when he won't pull any punches. 
"The seven-second delay button is taking a night off: Chris Rock is back on Netflix and ready to tell you what he thinks … live," the streaming service says in one of its promos for the main event. 
Look back: What just happened?!? Will Smith slaps Chris Rock over Oscars joke about his wife
Rock has also reportedly been test-driving material addressing the Oscar incident that got Smith banned from the ceremony and all Academy Award events for the next 10 years — and now it seems that he's ready for prime time. The title of the special, "Selective Outrage," harks back to a Smith bit Rock has done on his recent Ego Death world tour, including during a Feb. 17 show at Baltimore's Hippodrome Theatre — where, coincidentally, the live Netflix event is being held this weekend. A Baltimore Sun reporter who attended the Feb. 17 show said that Rock riffed, "Will Smith practices selective outrage," before adding, "People who are in the know, know that s— had nothing to do with me."
Rock also recently told one of his audiences that he had watched "Emancipation," the Apple TV+
AAPL,
+3.51%
film in which Smith plays a slave, "just so I could watch him getting whipped," as the New York Post reported. This biting material is expected to make it into Rock's Netflix special. 
And people who have attended some of Rock's recent shows, including the Baltimore Sun reporter, say he's also talked about reports of infidelity in Smith's marriage. "We have all been cheated on. She hurt him way more than he ever hurt me. Everyone knows I'm not spilling any tea," Rock is reported to have said. "I felt so bad for Will, I tried to call and give him my condolences. Everybody was calling him a bitch except me. But who does he hit? Me."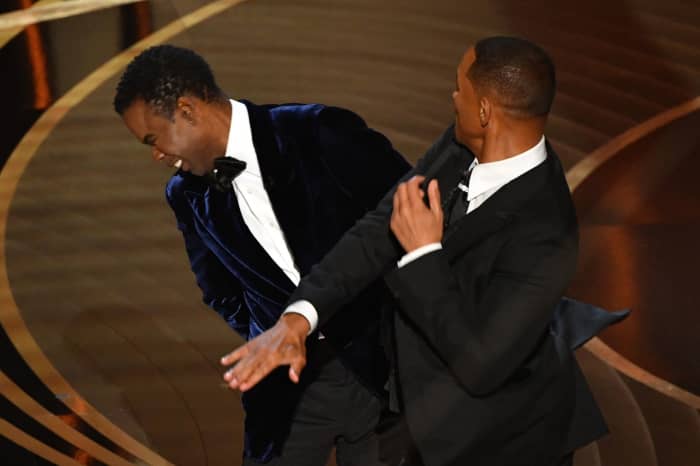 Smith released a public apology video last July, saying, "I've reached out to Chris, and the message that came back is that he is not ready to talk. But when he is, he will reach out."
He continued, "So I will say to you, Chris, I apologize to you. My behavior was unacceptable, and I'm here whenever you're ready to talk. I'm human and I made a mistake and I'm trying not to think of myself as a piece of s—."
Related: Will Smith admits 'I lost it' when slapping Chris Rock at the Oscars
Wondering how to watch Rock's live show on Saturday? 
You'll need a Netflix account to tune in. A preshow, which kicks off at 9:30 p.m. Eastern (6:30 p.m. Pacific), will be hosted by comedian and actor Ronny Chieng and will feature appearances from Arsenio Hall, Leslie Jones and Deon Cole, as well as messages from comedy icons like Jerry Seinfeld, Sarah Silverman, Amy Schumer and Cedric the Entertainer. A red "Watch Live" play button will be available at 9:20 p.m. Eastern (6:20 p.m. Pacific) on Netflix, so subscribers can join a waiting room before "The Show Before the Show" begins.  
After the preshow, "Chris Rock: Selective Outrage" will begin at 10 p.m. Eastern (7 p.m. Pacific). Netflix says it "will look like any other movie or show on Netflix that you can click to watch." But you'll be able to pause and rewind throughout the special, and also jump to exactly where Rock is currently at in his live set. The special will also be available for streaming immediately following the live event. 
A postshow featuring David Spade and Dana Carvey (dubbed "The Show After the Show") will offer colorful commentary.
[ad_2]