[ad_1]

The housing market rout is dragging certain million-dollar homes back to earth.
After two years of red-hot growth, the housing market has stalled. Higher rates are hammering the sector. The 30-year fixed interest rate was trending slightly below 7%, according to Mortgage News Daily, which last updated its survey data on Friday. Higher rates add hundreds of dollars in interest for would-be buyers.
As frustrated buyers sit on the sidelines, home sales are falling. And weak demand is also pushing home prices down.
Real-estate brokerage Redfin
RDFN,
-4.83%
said that certain million-dollar homes exited the category in January as prices dipped.
The share of homes in the U.S. that are worth at least $1 million fell to 7% in January 2023, from an all-time high of 8.6% in June 2022, the company said Monday.
In other words, a little over 7% of homes in America — around 6.2 million — are worth more than $1 million in January 2023.
And in some parts of the country, they're falling even more. The report said that the 'Bay Area, Seattle and New York are losing million-dollar homes fastest.'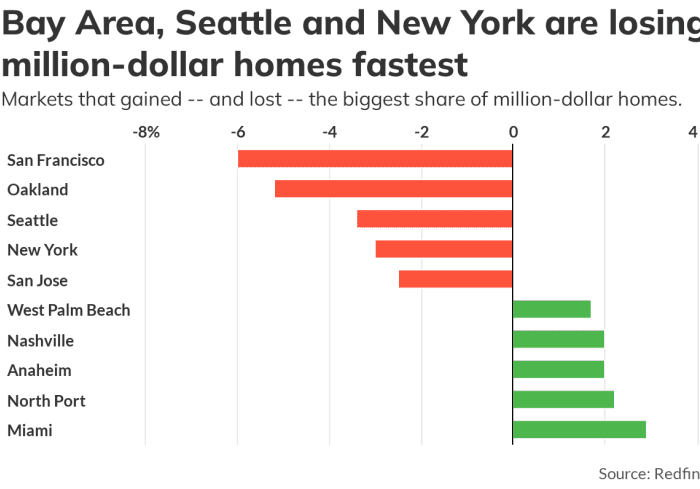 In San Francisco, the share of homes worth a million dollars fell from 86.3% a year ago (January 2022) to just over 80% this past January. Oakland saw a 5.2% drop in million-dollar homes.
In Seattle, there was a 3.4% drop in homes worth at least $1 million, and in New York City, a 3% drop.
To calculate the value of homes, Redfin used a proprietary model called the 'Redfin Housing Value Index,' which includes a Redfin Estimate, public records, and data from the multiple listing service (or MLS) to estimate the current and historical value of homes. They looked at more than 99 million properties in the U.S., including single-family houses, townhomes, condos, and apartments.
"Home values are coming down from their peak … but that doesn't mean buyers are getting a break," Chen Zhao, economics research lead at Redfin, warned.
The dip in prices is being balanced out by higher rates.
Winners and losers in the housing market
"Now isn't the time for buyers who need to take out a loan to get a good deal: Buying an $800,000 home today would cost more per month than buying a million-dollar home a year ago," she added.
For instance, if one is buying a $1.28 million home in San Francisco, with rates at 6.6%, they'd pay roughly $8,400 a month in mortgage payments. A year ago, that house would have been more expensive, at $1.41 million, but their mortgage would have just been $7,100, due to a 3.5% rate.
Overall, the Bay Area is facing headwinds when it comes to the housing sector.
Redfin noted that the region has "seen outsized drops because home prices there have dropped more than in other places." The median home price in San Francisco fell 9.4% year-over-year in January, Redfin said, while it fell 7.8% in Oakland.
But there are some bright spots. More homes in Florida are worth more than $1 million, per Redfin.
According to the report, 1 in 7 homes in Miami are worth at least $1 million — a 11.5% increase from a year ago.
North Port, Fla., Anaheim, Calif., Nashville, Tenn., and West Palm Beach, Fla., are also big winners in this category.
"Million-dollar homes are making up a larger chunk of Florida's housing stock because many parts of the Sunshine State are still seeing substantial upticks in home values and prices," Redfin said.
"Florida homes are holding their value because there's still healthy demand from buyers, especially out-of-town remote workers moving in from more expensive parts of the country," they added.
[ad_2]